Whether alone or with loved ones, with or without gifts, Christmas is a time to remember the rhyme and reason to cradle all seasons of living and loving.
Cradle The Season
Poem ©Ruth Cox
Christmas...
Is about living and loving
Nothing more, nothing less
Not about giving, receiving
Presents biggest and best.
Living...
Is about memory-making
Events, activities
Not about long bellyaching
Obliged festivity.
Loving...
Is about freeing and cradling
Relationship building
Not about begrudging, ladling
Lip service unyielding.
Christmas...
Is about heart-spun bakery
Goodness, painstaking work
Not about store-bought fakery
Given, driven berserk.
Dr. Seuss and Grinch
May we each remember Dr. Seuss, his How The Grinch Stole Christmas tale of seasonal thought: "
Maybe Christmas doesn't come from a store. Maybe Christmas means a little bit more
."
Christmastime is not about the gifts we may have or have not. Consider this ... Cradle Christmas!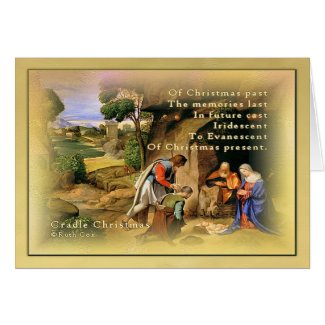 Cradle Christmas Cards by abitosunshine
Check out Cradle christmas Cards online at zazzle
Disclosure: Ruth Cox is an associate of Amazon.com and of Zazzle.com and may earn sales commissions via purchases made through links in this article. Links herein may lead to 3rd party sites for which the author is not responsible.